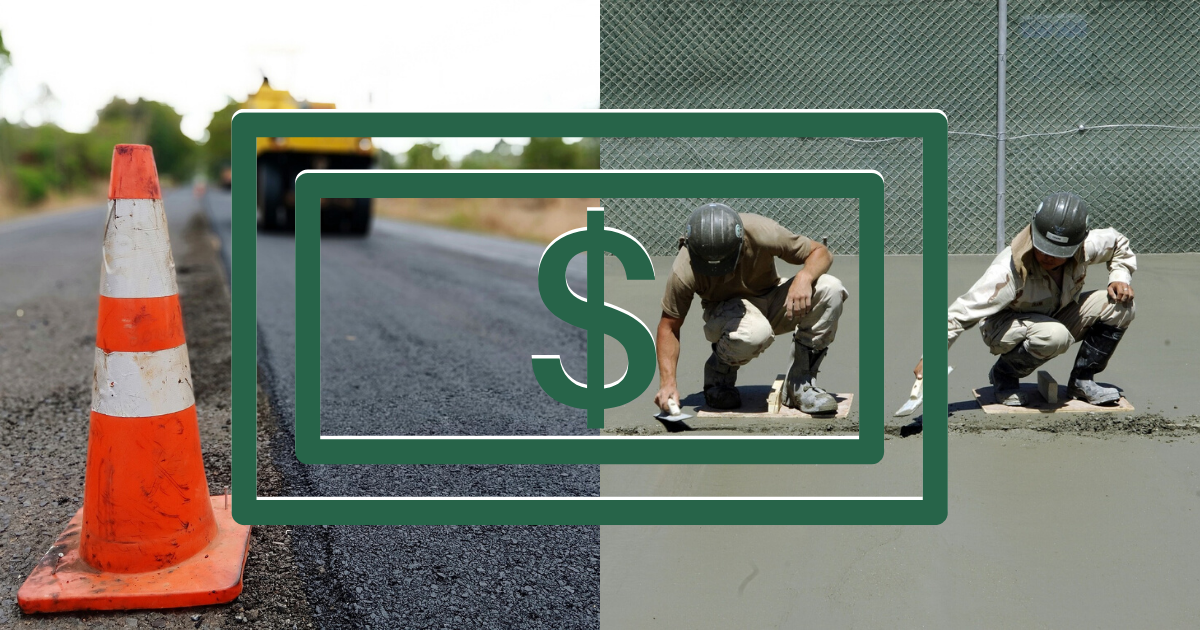 Sometimes sticker shock prevents people from giving concrete driveways or parking areas their full consideration. But, thinking short-term can end up being more costly in the long run. When correctly installed and maintained, concrete can increase the overall value of your property and can last twice as long as an asphalt surface with significantly less maintenance and deterioration.
Side-By-Side Comparisons
A true cost analysis should include the cost of the product, installation, labor, and ongoing maintenance averaged over the expected life expectancy of the product. In the final analysis, a typical 600-square-foot driveway breakdown* appears below:
*All cost estimates provided by Home Advisor. Prices may vary widely based on a number of other factors.
Why Does Concrete Cost More to Install?
The binding agent used to make concrete - Portland cement - is generally more costly than the liquid asphalt used to make a hot-mix asphalt pavement. Concrete also requires side forms to hold the concrete while it sets, which also requires more labor.
Maintenance and Cracking
In the first year, concrete contractors recommend limited use (or no use!) of deicing products. After the first year, only plain rock salt (sodium chloride) is recommended for deicing. Calcium and magnesium-based products have been shown to cause damage to concrete over time. Sealing concrete isn't required, but using a quality surface sealant such as acrylic-based or saline-based sealers every five years can prolong the life of your concrete and protect it from excessive cracking and flaking.
Asphalt must be resealed six months after installation and every two-to-three-years after. The sealer ranges from $20 to $50 for the 5 gallons required for the sample driveway.
Longevity Levels the Costs
Nothing beats concrete's longevity! A concrete driveway or parking lot installed on a solid base with good drainage will last 30-40 years, nearly double the average life span of an asphalt product. While the initial installation cost may be higher, over the lifetime of the product, it's a better investment. When easier maintenance, decorative options, and increased property value are factored in, concrete becomes a more cost-effective choice for your driveway or parking area.