If you've chosen concrete for your driveway or parking lot, you've made a great choice! Concrete is durable, versatile and low maintenance. However, having a quality end product involves more than just selecting the right material—you also need the right contractor to execute the work. But how do you choose one?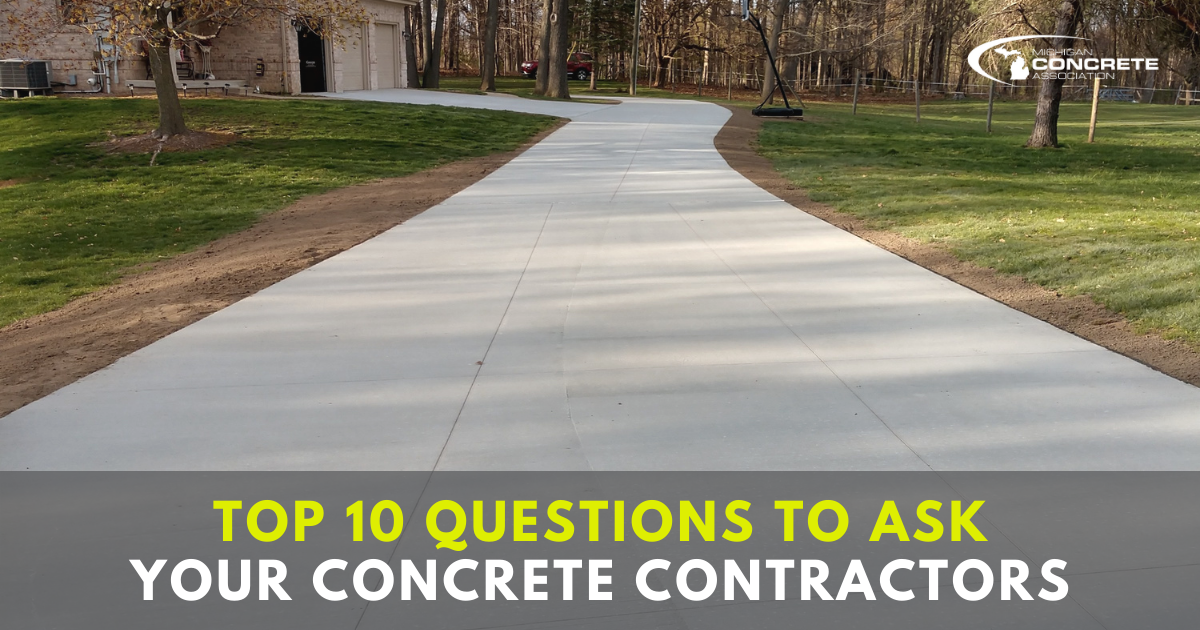 The first step to success is to find an ideal concrete contractor for the work you want done. Don't be shy about vetting contractors to make sure they are a good match for the project size and scope. We'll provide a few tips for finding a contractor, and then we'll go through questions to ask when discussing your project.
HOW TO FIND A CONTRACTOR
Looking up local concrete contractors in the phone book or via an internet search can bring up a long list of companies to wade through. A good alternative is to ask family and friends for the names of contractors who have done great work for them on similar projects. An even better idea is to contact a local ready-mix concrete supplier or two and ask them to name their best two or three contractor customers to work on your type of project (small or large driveway, decorative concrete, parking area, etc.).
Request quotes. Once you have a short list of contractors, contact each to request an estimate or quote for the job. (Pay attention to their response times!) Some might simply give you a square-foot price range over the phone or email, and others will want to visit the site to give you a more accurate estimate. Here's a pro tip: The more thorough the estimate, the more likely the final cost will be close to the quoted price.
Visit their websites/social media pages. Many contractors have an online presence nowadays. Having a website makes it easy to promote services and showcase their work. Chances are, if they have social media channels, they are using them to highlight current and past projects. You also may find comments from social media users raving (or complaining) about their experiences with the contractor. Pay attention to the complaints and how the company responds to them. Checking the Better Business Bureau is another way to vet a contractor.
Look for ACI certification. Certification ensures that quality benchmarks will be met. Using a contractor certified by the American Concrete Institute (ACI) means your project will meet specific requirements to make it durable and strong. Even the smallest residential project requires someone who knows how to cure concrete as well as use the appropriate mix of aggregates, liquid and cement. Contractors also should understand the different types of reinforcement used for structural concrete work.
For pavement projects, look for a contractor who has received ACI certification in concrete flatwork. You can go to concrete.org/verify to look up an individual's certification status. If you're looking to add a decorative touch to your project, ask the contractor about their credentials for decorative concrete. In recent years, ACI began offering certification programs for decorative flatwork.
Ask for references/project portfolios. Using websites like Angi or Home Advisor to look up reviews is a good starting place. You also should ask contractors to provide references and examples of their work—specifically for jobs similar to yours. Quality contractors take pride in their work and are glad to provide photos and testimonials from happy customers. A contractor who cannot produce photo evidence of their work or is hesitant to offer contact information for past clients is a red flag. Pro tip: Don't sign a contract without first talking to references.
QUESTIONS TO ASK WHEN DISCUSSING YOUR PROJECT
These items can be addressed before or after the estimate, but before signing a contract—and yes, a contract should be offered! It's important to have an agreement in writing regarding project expectations and responsibilities, no matter the project size. It will help resolve any issues should problems arise concerning the quality of work or amount and type of work done.
What are the terms of payment?
Payment should be required upon completion of the work and after the ready-mix producer has been paid. However, there may be cases in which a contractor may ask for a small earnest deposit prior to placement to secure your project in their schedule. Always ask the contractor to provide proof of their payment to the ready-mix concrete supplier. This is an important request because an unpaid concrete producer has the right to put a lien on your property until the payment has been completed.
How soon can you start/how long will my project take?
Make sure the contractor can meet your deadline. Good contractors are often in demand and have busy schedules. While they should be able to complete small concrete projects, like driveways, in two to three days, it will take longer—possibly a week or two—to complete more extensive projects, such as parking lots, sidewalks around large, multifamily residential properties and so forth. Always ask for a time estimate.
Will you need to obtain permits for my project?
The concrete contractor should be knowledgeable about the permitting process and what permits might be required for your project. It never hurts to ask the contractor what permits he needs to get so you are aware of the process.
Does the quote include removal and hauling away of existing pavement/materials?
Make sure both you and the contractor are aware of the differences between concrete overlays and projects requiring total removal and replacement of the existing pavement—and how much construction waste each typically generates. Discuss if removal of any existing materials is included in the quote.
Does the estimate include curing newly placed concrete?
Unfortunately, many residential concrete contractors do not properly cure the concrete immediately after it is placed. Thankfully, concrete is forgiving and oftentimes does not show any deterioration because of this. Fresh concrete undergoes a chemical process during which it hardens (sets), generally reaching a point where it's safe for normal foot traffic 24 to 48 hours after placement and then reaching full strength at 28 days. To avoid crazing (fine cracks) and ensure a durable and long-lasting surface, contractors need to cure the concrete. This is done by keeping the surface damp and at the right temperature (50-85 degrees Fahrenheit) during the first week or so after concrete is poured, and they must employ methods to maintain ideal curing conditions during hot, cold, dry or windy weather.
The easiest thing a contractor can do is spray a curing compound on the surface after the broom texture has been applied. Make sure to ask if their estimate includes curing—if it doesn't, ask them to add it. Or hire the contractor who does include curing.
Does your quote include a sealer?
Applying a sealer to a concrete slab isn't a necessity, but it will improve the concrete surface's appearance and make it easier to maintain. A sealer also may help improve the longevity of the concrete, especially if you plan on using salt to deice your pavement. Most sealers are applied at around 28 days or later.
Will you reinforce the concrete with rebar?
The contractor should explain whether or not the expected weight and pressure of objects on your project justifies a need for rebar reinforcement.
Will you manage the project, and do you have others who work with you?
It's important to know how many people to expect on your property and who will be in charge.
What insurance do you have?
If anything goes wrong on a job, you want to make sure you're not liable or responsible for damages. Insurance needs vary by business and state, so it is best to consult with an insurance agent to understand what policies your contractor should have to cover your property and project. Typically, the contractor should have workman's comp, liability insurance and commercial property insurance at the very least. Don't be afraid to call the insurance company to verify the contractor's policies.
How will the joints be installed?
Joint lines aren't decorative! Proper joint layout is necessary to control natural cracking caused by temperature changes and drying shrinkage. Some contractors tool joints in the fresh concrete, whereas others prefer sawing them in the newly hardened concrete, usually within eight to 12 hours after placement. Still others might prefer a combination of the two methods. Most driveways and parking lots have square panels about 5 to 8 feet in size. As a general rule, panel sizes should be no more than two times their slab thickness in feet. For instance, the panel size for a 4-inch-thick slab will be no more than 8 feet.
Where will the ready-mix trucks wash out?
Trucks are not allowed to wash down chutes directly into storm drains. Customarily, drivers wash down the trucks and chutes after they return to the ready-mixed plant so excessive material will not go into storm drains or surrounding areas.
How long until I can walk/drive on the new concrete?
The main concern is loading the slab before it is strong enough, potentially causing it to crack. After initial set during the first 24-48 hours, forms can be removed and people can walk on the surface. Many contractors will tell you to keep vehicles and equipment off the new pavement for seven days just to be safe, but most concrete mixtures used today will gain adequate strength within three days. A concrete slab may be open to traffic as soon as testing confirms that it has reached a compressive strength of 2,500 psi.
Can I use salt on the concrete?
The only salt that the concrete industry recommends is plain rock salt (sodium chloride). Studies show that calcium chloride and magnesium chloride react with concrete, causing deterioration. Rock salt should be applied sparingly and only when ice has formed. For newly placed concrete, the salt should only be used after at least 30 days of drying (after the curing period has concluded).
Selecting the right concrete contractor for the size, scope and timeline of your job will help ensure the project goes smoothly. Checking certifications and references is a great way to make sure the contractor you're considering is the right fit—and asking the right questions helps both you and your contractor understand project requirements and expectations.
For more information on driveway and sidewalk placement and concrete care and maintenance, download our guidelines to help you during the process.