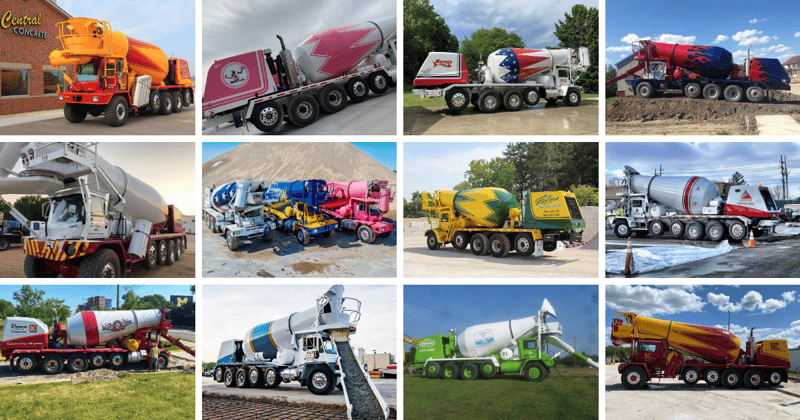 We think Ready Mix Concrete Trucks are the coolest! Our member companies use their trucks to not only sport their company colors but to also highlight and support local causes. The Michigan Concrete Association wants to highlight our producer members by showing off some of their coolest, most beautiful, and uniquely painted trucks. We will also share the stories behind the metal on social media and on our blog! Feel free to share your Ready Mix Truck Photos in the comments!
.
Willbee Transit Mix - Jackson, MI
Willbee built their first in house Glider truck. In honor of previous generations, they decided to paint it in their 90's color scheme. They had a special emblem created for the drum and ditched the standard starburst.
The emblem says, "Remembering the past, Building the future" Established 1907.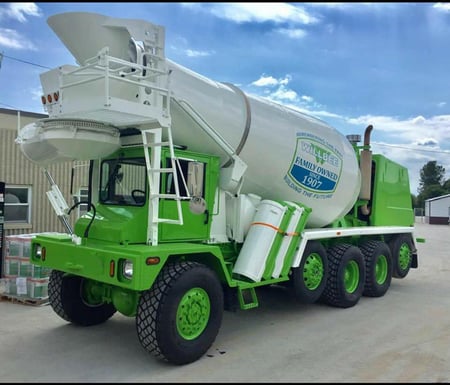 Team Elmer's - Traverse City, MI
Team Elmer's has 3 "Special" Trucks they would like to highlight as a part of our story.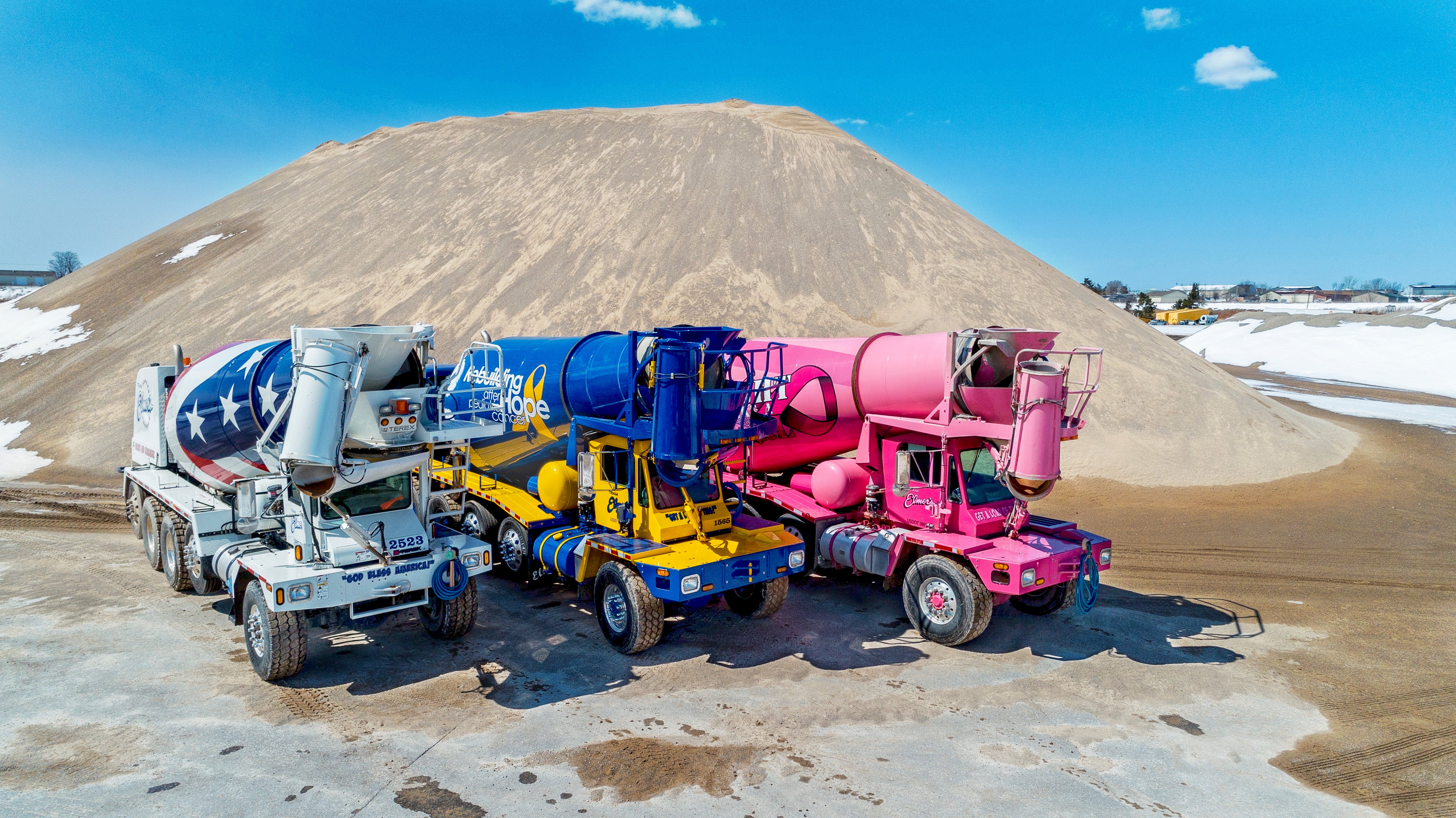 The first is their "Fight like a girl" truck for breast cancer awareness. This is actually their second mixer for this cause after retiring one. They have a female driver Vicky Long that actively takes this truck to events and parades. She hands out stickers, tattoos, T-shirts etc to support breast cancer awareness.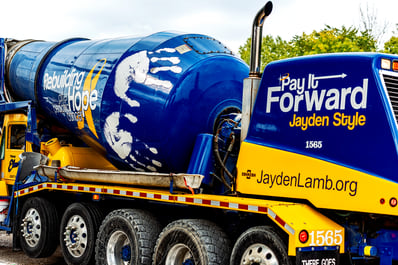 The "Jayden Lamb" truck is for children fighting cancer and their families and also provides services after loss of a child. Team Elmer's actually put a vote in their markets for what nonprofit to paint a truck for and the Jayden Lamb foundation had the most votes. They painted the truck and gave $5,000 to the foundation. They also have a plant manager in Midland (Joe Letzkus) that is highly involved with the program taking the truck to events and making sure it shines every day. You can find more information about the cause by clicking the link: https://jaydenlamb.org/our-programs.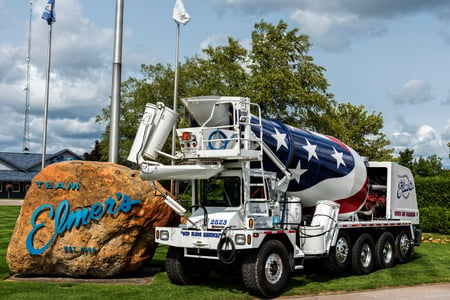 Last is the "Merica" truck. Elmer's would probably call it the patriot truck. The message on this truck is pretty straight forward. It often finds itself at 4th of July parades, Memorial day events etc.
Superior Materials/Superior On-Site/Builders Redi-Mix - Southeast MI, Greater Lansing, MI
Superior Materials , Builders Redi-Mix and Superior Onsite, service contractors and homeowners throughout Southeastern Michigan, Flint and the Greater Lansing area with their 15 ready mix plants, including 2 portable plants.
Their team has experienced personnel with a history of valuable ready-mix concrete knowledge, many of them have been with the company for over 20 years!
Superior Materials has provided concrete to iconic sites across SE Michigan such as Little Caesars Arena, the Ren Center and Comerica Park! Keep an eye out for their brand new white and red Oshkosh Mixers as you travel SE Michigan.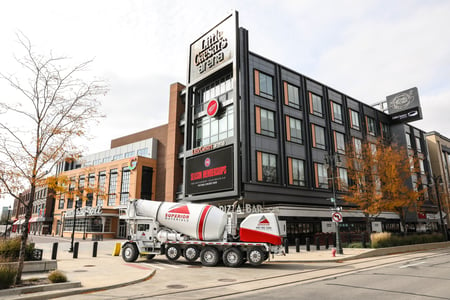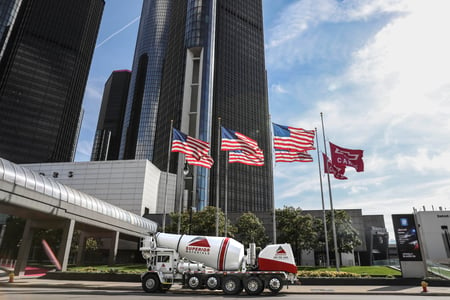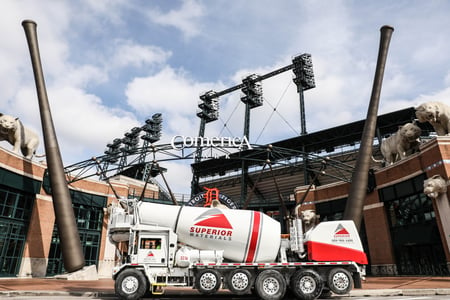 Central Concrete & Fisher Sand & Gravel - Mt Pleasant, MI
Central Concrete Products, Inc. is a ready mixed concrete supplier in Mid Michigan, with plant locations in Mt. Pleasant and Alma, Michigan. Our plants are National Ready Mixed Concrete Association State Certified and are fully-equipped with the latest technology for automatic batching.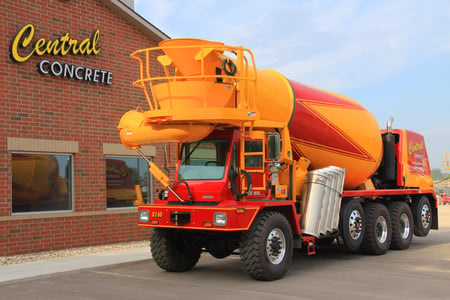 The Bucks Run mixer was a cool, unique way for them to use their equipment "space" to advertise another one of our businesses.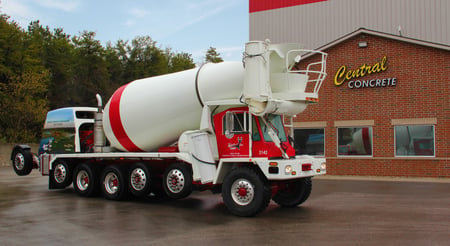 The Fisher Sand & Gravel mixers (labeled as working at Sanford Bridge) played a role in the Sanford Bridge rebuild over US-10, after the Midland County Flooding/Dam breaks in May 2020.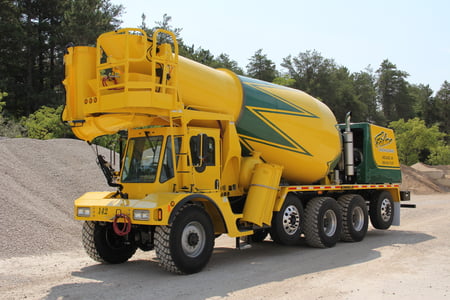 Messina Concrete - Southeast, MI
Messina Concrete is a family owned and operated Ready Mix Producer in Southeast MI. For over 42 years, proudly supporting their community.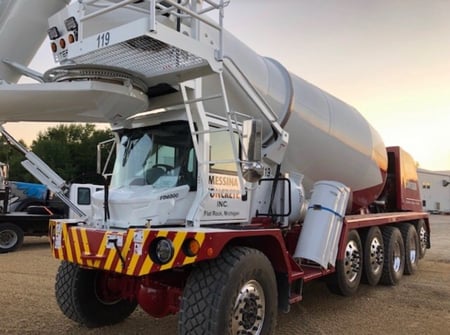 Messina customizes all of their water tanks. They have tanks that celebrate our great public university's, the military, superheroes, diabetes, sports teams, high school radio stations and more!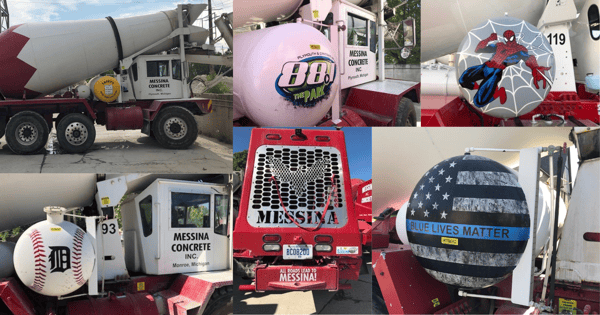 Detroit Ready Mix - Detroit, MI
The majority of the Detroit Ready Mix fleet are white trucks with a blue starburst, but the real detail is in the medallion on the hood. Each medallion is colored to represent the team colors of the major league sports teams in the state (Pistons, Tigers, Red Wings, Lions), but the outside writing is what stands out the most. "Detroit ready to… React, Rebuild, Redefine, Evolve" was our response to Detroit's rebirth after bankruptcy, the love we have for our city, and our commitment to the city's future growth.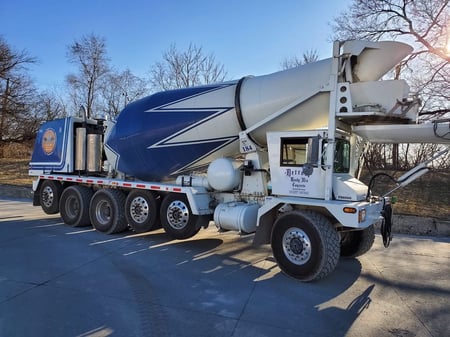 They also have 3 pink Mixer Trucks that cannot be missed – President, Bunky Wheatley, said that "Everyone has known someone, be it friend or family who has battled breast cancer at some point in their lives" and that couldn't be more true. Our goal was to highlight the importance of supporting breast cancer research and those organizations that do so much good for the cause, and to show our support for our loved ones who have been affected by it. Plus, you can't get any more bad ass than a pink Mixer Truck – you just can't."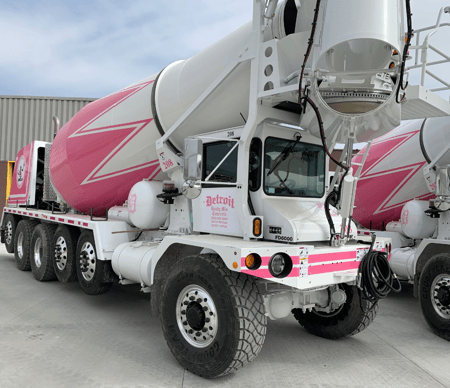 VanHorn Concrete - Auburn Hills & Waterford, MI
VanHorn Concrete has been in the concrete business for over a century. They are very proud to have three generations of multiple families working at the company. They are proud to have worked with some of their customers for over 50 years. Their yellow and red trucks can't be missed as you travel through the Waterford & Auburn Hills communities.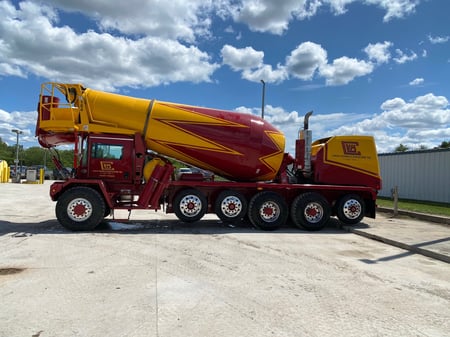 Consumers Concrete Corporation began as a sand and gravel operation in 1933. In continuous operation since then, they have expanded to operate 20 ready mix plants, 3 concrete products manufacturing locations with concrete products stores in Kalamazoo, Battle Creek, Lansing and Wyoming, Michigan.
Consumers Concrete is "Proud Of Our Past, But Always Building Michigan's Future"
Here is one of their brand new shiny front discharge mixer trucks.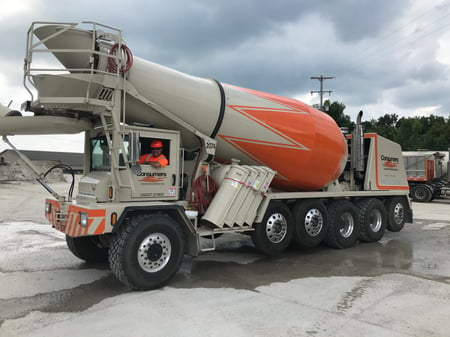 Just for a little comparison, here is their 1960's rear discharge truck, their first every front discharge truck from 1965 and a circa 1980's front discharge truck.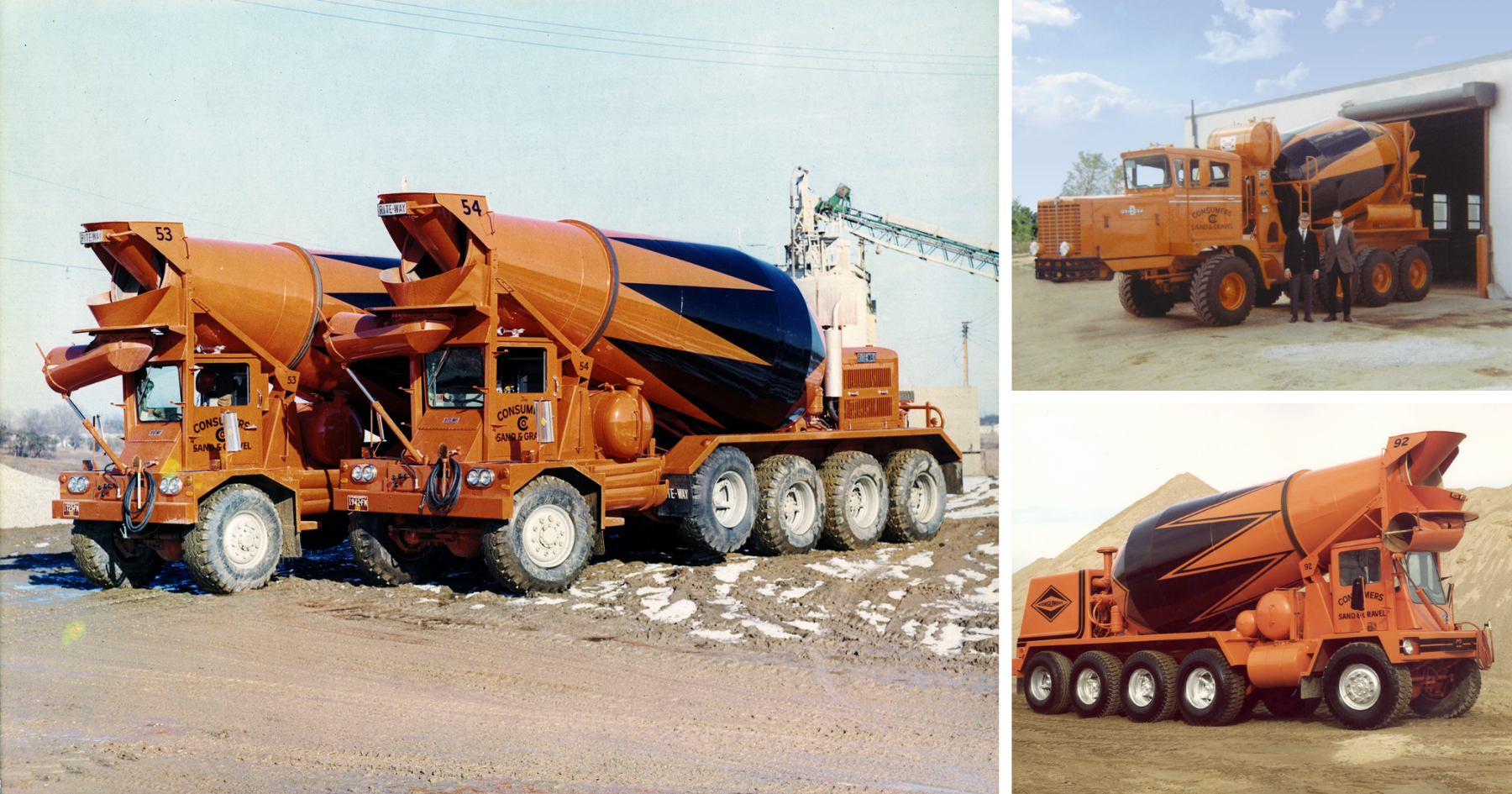 National Block & Ready Mix, Inc. - Metro Detroit MI
National Block and Ready-Mix has come a long way since 1946 when four childhood friends decided to go into business. The four veterans of World War II returned home and started a concrete block operation on a scale that resembled a cottage industry. Their inspiration came from an old immigrant Czech farmer who was making block one at a time with a Sears Catalog purchased block mold.
Within three years it became clear the backyard operations could never keep up with the demand. The present site of nine acres on Ford Road in Westland was bought in 1949. This location gave National Block the space for plant, equipment and storage necessary to become a major player in the concrete block market and by 1952 the Ready-Mix concrete field. Expansion continues to this day with an exciting future ahead.
Here are a few photos of their new 2021 Oshkosh Mixers!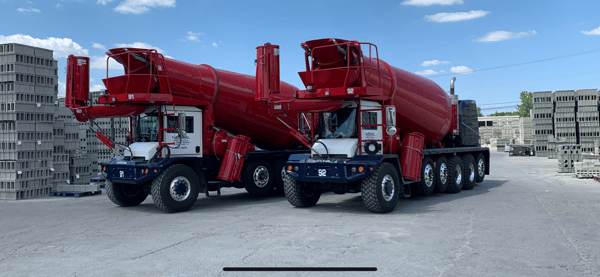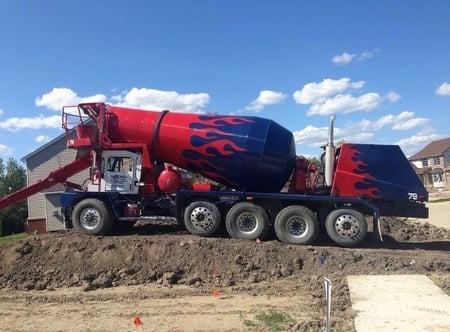 Ken's Redi Mix Inc. - Goodrich & Clio, MI
Ken's Redi Mix, home of Sharkcrete, has been delivering concrete in Southeastern MI for over 50 years! If you are in SE MI, you've probably seen their big, red and white trucks with sharks on the rear engine cover rumbling down the road. We are highlighting their traditional red & white design as well as their new K-74 Independence themed truck which makes appearances in local parades.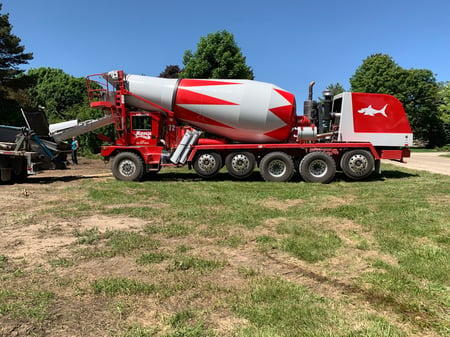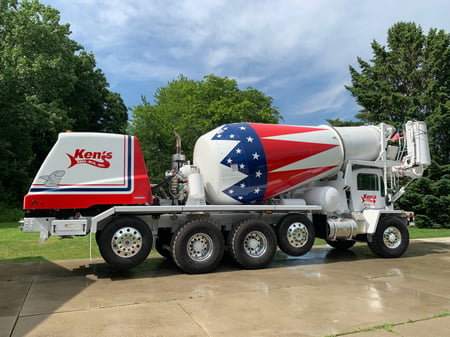 Osborne Concrete Co. has been supplying the Romulus area with building supplies since 1965. They started out with 3 trucks and a 3 ½ yard dry batch plant at the corner of Northline and Wayne Rd (which is now part of the Detroit Metro Runway). Now they have 15 concrete mixer trucks and 20 gravel trains with their sister company John D Osborne Trucking. Currently, it is the third generation of the original founder that still runs things.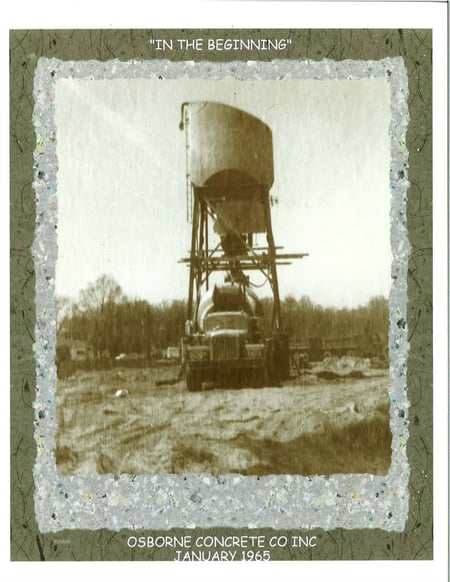 Check out this 1998 Terex mixer truck that totally refurbished with box frame & cab replacement. Just like new!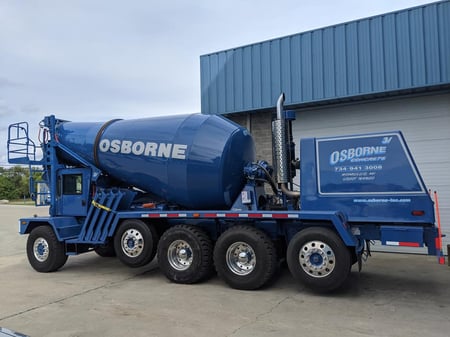 And here is one of their classic grey and white paint jobs.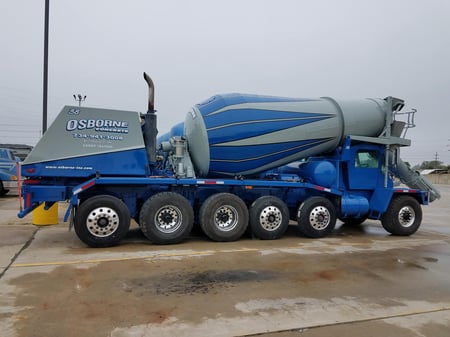 Ozinga Concrete - New Buffalo, MI
Established in 1928 in Evergreen Park, Illinois, as a small coal and coke yard, Ozinga survived the Great Depression and World War II before becoming one of the first ready mix providers in the region. For four generations, we have continuously expanded our product and service offerings to faithfully meet the needs of builders throughout Illinois, Indiana, Wisconsin, Michigan, and South Florida. Here is one of their classic red & white mixer truck designs.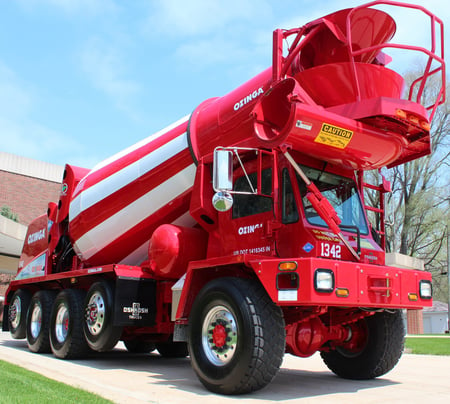 Ozinga's Merry Mixer is a 2019 Kenworth T880 ready-mix concrete truck. More than 32,000 LEDs are wrapped around the truck and synced with 13 songs that last for an hour in length. The festive truck is fitted with 4 outward-facing JBL speakers controlled from the driver's seat.

Traveling over 2,000 miles every year the Merry Mixer has been to four states for parades and special events (Michigan, Illinois, Indiana and Wisconsin) Usually used in the months of November and December, the Merry Mixer has transformed into a birthday parade truck during the COVID-19 pandemic. The truck has been to over 30 birthday parades as well as many local hospitals to thank the frontline workers for all that they are doing during these unprecedented times.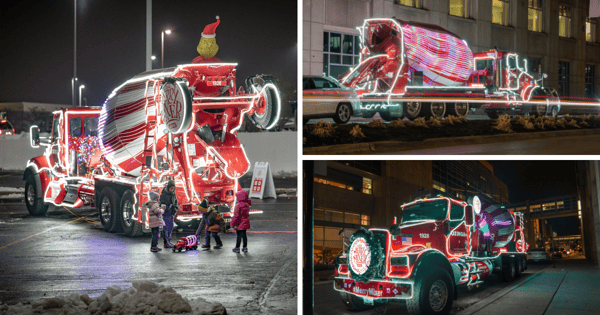 Bogen Concrete has been serving the Michigan area since 1983. They are a locally owned and operated business delivering redi-mix concrete along with stone, sand, top soil and mulch with their Stone Slingers.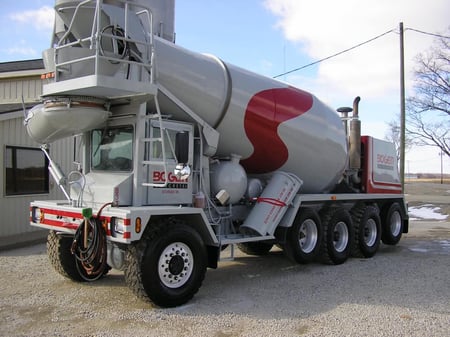 Doan Companies - Ypsilanti, MI
Family owned and operated since 1970. Concrete is more than a business, it's a source of pride and a legacy Doan Companies' hopes to continue for generations to come.
They just welcomed their brand spanking new 50th-anniversary truck to their fleet!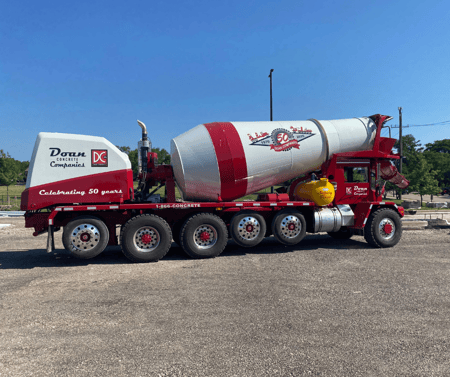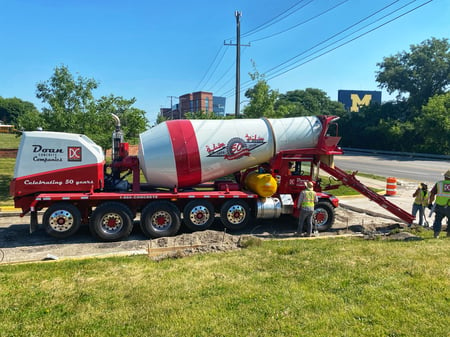 Shafer Redi Mix has 5 Local Concrete Batch Plants, Precast Production Facility, Full line of Concrete Supplies, Tools and Equipment. Keep an eye out for their brand spanking new Oshkosh S-Series Mixers driving down the road.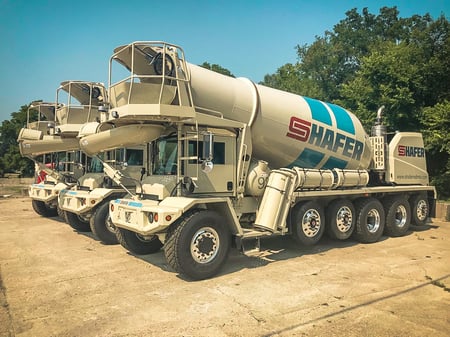 Paragon Concrete/Paragon Ready Mix - Macomb & Oakland County
Paragon Concrete Company / Paragon Ready Mix Inc and its predecessor companies have been supplying ready mix concrete to Macomb and Oakland County since 1973.
The bright orange and brilliant white combination on their trucks are hard to miss. You've seen their trucks supplying concrete for our roadways, new construction projects or in your neighborhood pouring a neighbor's driveway.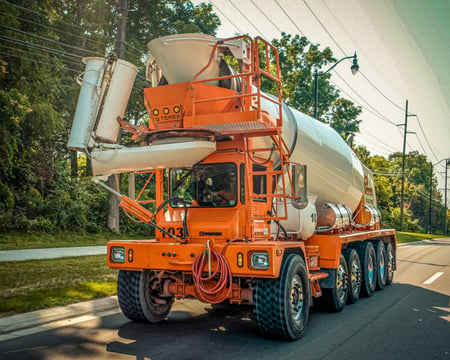 Modern Concrete & Modern Metamora - Flint & Metamora, MI
Modern Concrete is a second and third-generation, family-owned business that is based on relationships. Their staff and employees are like one huge family that works together to build better communities with green products that last. Modern Concrete works hard to bring the very best products to their community, their trusted services started with Ron Lammy over 50 years ago! They take pride in delivering quality concrete with their expert drivers to family after family in Genesee County.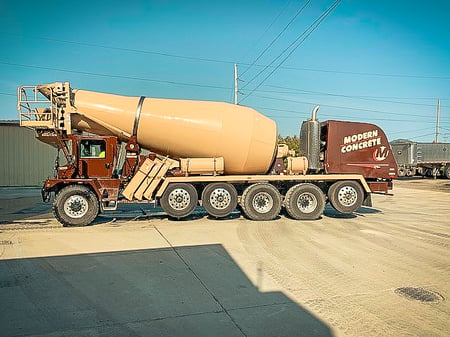 Hercules Concrete - Southeastern MI
Hercules Concrete was named after the great mythological hero. The name Hercules symbolizes the strength of the product, the workers, and the company. They are a proud American company, working to serve our customers in Southeastern Michigan. The flag on the trucks displays the pride they have in this country, and their commitment to build a greater America.