The concrete we use every day to build our driveways, patios, sidewalks, parking lots, highways, and structures must be durable and resilient to withstand Michigan's variable weather. At the same time, we must be aware of the effect our work can have on the environment. Every year we place such a large amount of concrete that even minor changes or enhancements to the formulation can have a noticeable effect on our carbon footprint.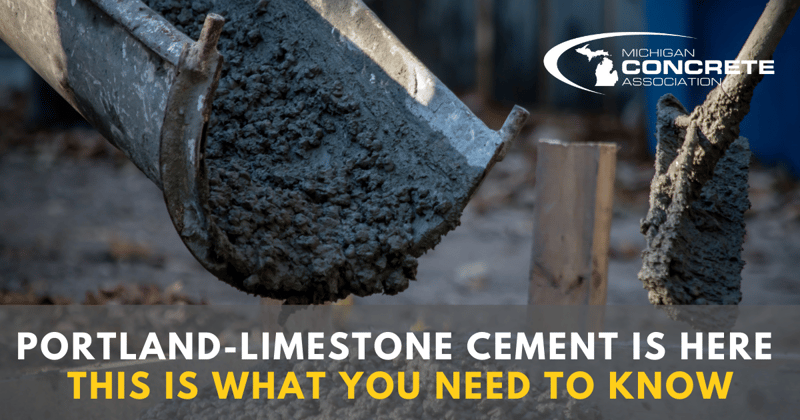 The construction industry now has a proven method to reduce carbon emissions and help build a more sustainable future. Let's take a look at cement―the critical ingredient in concrete. Ordinary portland cement (OPC), which is normally used in concrete, is being replaced throughout Michigan with portland-limestone cement (PLC). This blended cement has a higher limestone content which results in a product that works, measures, and performs the same as OPC but reduces the carbon footprint by up to 10 percent.
OPC vs PLC
As mentioned, the distinction between the two types of cement is in the amount of limestone in the cement. Starting with the production of the cement, the same clinker is used to make both OPC and PLC. The difference is there is less clinker in PLC. The U.S. standard for OPC allows for the use of up to five percent limestone to be substituted for clinker. But the standard for PLC permits a five to 15 percent limestone replacement. The result of replacing that amount of clinker with ground limestone is that it then embodies less energy and CO2 than ordinary portland cement.

To ensure the proper performance, cement producers optimize PLC products so that they behave in the same way as portland cement in concrete mixes. The outcome is this: when working with PLC, you still have the same resilience and sustainability you've come to expect from concrete made with OPC. The difference is just a greater reduction in the carbon footprint.
As with any mix design, it is always evaluated upfront to determine if any adjustments to need to be made. Generally, the concrete proportions do not change when PLC is substituted for OPC at a 1:1 replacement level.
How does it work in the field?
When you make the change and substitute PLC for OPC, you still use the other materials you would normally use with OPC, such as supplementary cementitious materials (SCMs). There are essentially no modifications needed to the mix design or placing procedures.
On the jobsite, concrete made with PLC is placed and finished in the same way as OPC mixes. The good news is that the properties of both fresh and hardened concrete are the same or very similar whether the binder is portland cement or portland-limestone cement.
Acceptance of PLC
PLC is not new. Concrete mixes containing PLC have been researched and evaluated for decades throughout the construction chain, by cement manufacturers, ready-mix concrete producers, specifying agencies, owners, and end-users.
When specifying PLC for projects, be aware there are different designations for the same product in the United States and Canada. In the U.S., PLC is specified as ASTM C595 Type IL cement and in Canada, PLC is specified as CSA A3000 Type GUL.
ASTM C595 and the use of Type IL is accepted by almost every code, standard and specification.

These include:

• ACI 318 – Building Code Requirements for Structural Concrete
• ACI 301 – Specifications for Concrete Construction
• ASTM C94 – Standard Specification for Ready-Mixed Concrete
• FAA Airport Construction Standards, P-501 – Cement Concrete Pavement
• MDOT Standard Specifications
• AIA MasterSpec®
• International Code Council

To use PLC in a project, reference one of the above codes or specifications. For projects that have their own concrete specifications written, make sure to reference ASTM C595 in addition to ASTM C150.
History
PLC isn't an unknown formulation; it has a long history and the addition of limestone in the grinding of cement goes back decades in Europe. In Germany, additions of limestone were seen in the 1960s, in the 1970s the practice began in France, and in the 1990s in the UK. Even Canada permitted small amounts of limestone to be added to portland cement as early as 1983.
Why use PLC?
The use of PLC is important because it gives contractors, architects, engineers, and producers an environmentally friendly way to build any project that would traditionally be built with OPC. With almost no modifications to the mix design or placing procedures, it is an easy transition for the contractor, while still maintaining the resilience and sustainability of portland cement concrete. If you work with cement and concrete, you already know how to work with PLC.

It is time to set an example for building sustainably, utilizing the innovative approach of PLC. As the industry moves toward this new, more sustainable product, working with your cement producers is more important now than ever. Learn more about PLC and move your projects to a proven, lower-carbon, renewable and sustainable solution.
When you're ready to start your next project, contact a concrete supplier or the Michigan Concrete Association (MCA) if you have any questions on PLC, or go to the official site for portland-limestone cement.