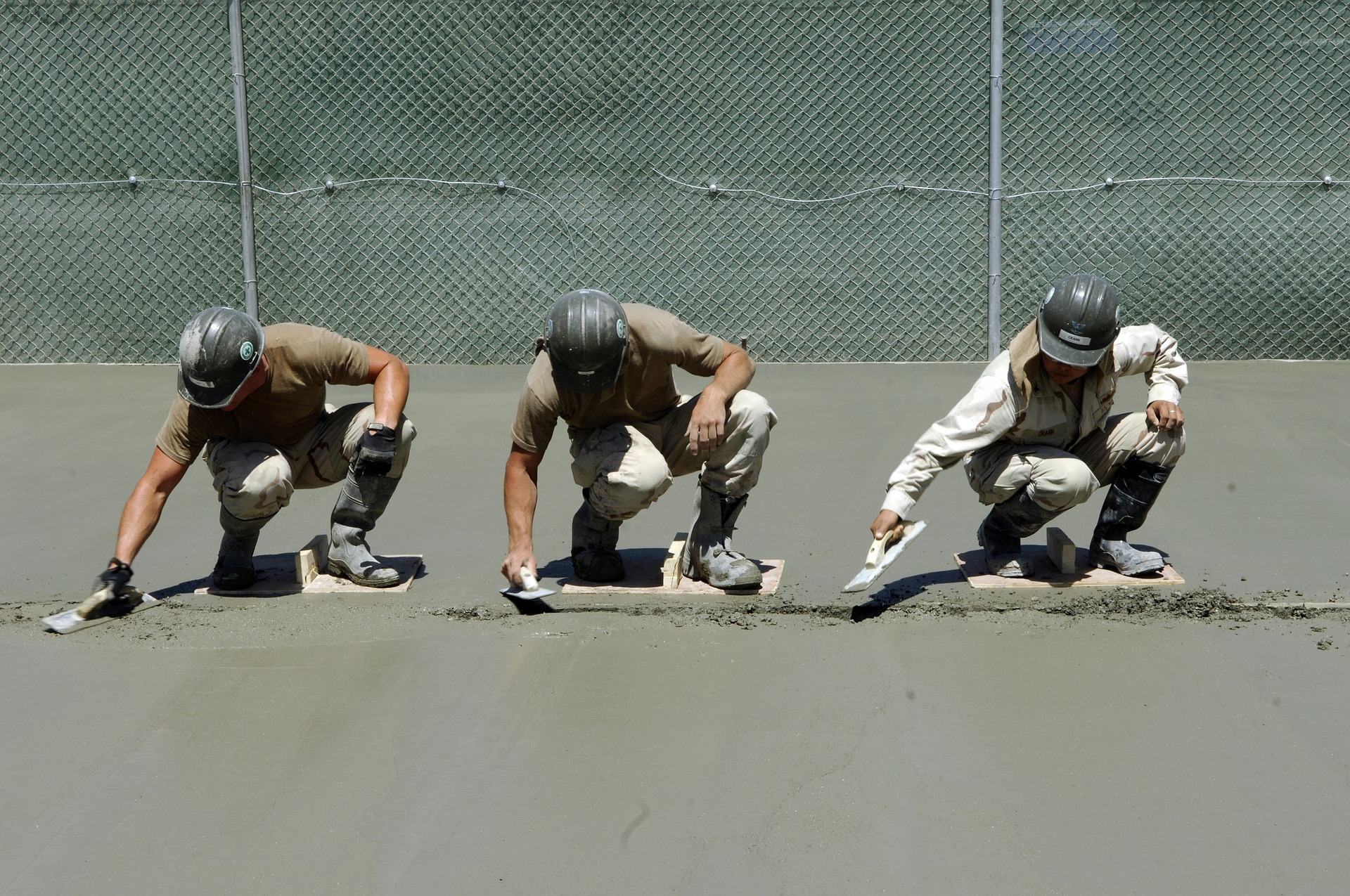 The Michigan Concrete Association (MCA) was formed in 2009 as the result of a merger between the Michigan Concrete Paving Association and the Michigan Concrete Association. Its mission is to increase the use of concrete in Michigan and to further the interests of Michigan's ready-mix and concrete paving industries. Today, the merged association includes over 200 members and offers a number of certifications to its members.
3R Home Improvement offers a full line of residential masonry services including concrete porch caps, concrete steps, tuck-pointing, and driveway repair.
Ajax Paving: Founded as a small asphalt paving company in 1951, Ajax Paving is a leader in the road construction industry, especially in Southeast Michigan. From small paving projects for commercial, residential or governmental developments to the largest highway jobs, to airport runway reconstruction, Ajax also does concrete paving.
Albanelli Cement Contractors hasn't found a project too large or too small for its crews. They do everything from heavy-duty industrial projects to residential projects including slabs on grade, structural slabs, concrete floors, sidewalks, parking lots, driveways, and curb and gutter.
Anlaan Corporation has a very unique expertise in bridge construction, rehabilitation, piling, sheeting, and earth retention. This construction company actively pursues public, private, and marine projects with qualified sub-contractors in both Michigan and Indiana.
Arrow Construction is a federal and state-recognized minority-owned business providing construction services for Michigan's Upper Peninsula for over 25 years. Whether it's concrete pumping or mudjacking, the crews will work on commercial, residential, and municipal projects.
Bacco Construction Company has been building the Upper Peninsula's infrastructure for more than 105 years, including concrete sidewalks, streetscapes, footings, retaining walls, and the Soo Locks tunnel.
Burgess Concrete Construction specializes in decorative concrete foundations and walls, bridge structures and grade beams. The team also will do flatwork including curbing, walks, drive approaches and floors. All services are provided by ACI-certified concrete finishers.
C.A. Hull specializes in bridge construction, bridge and concrete rehabilitation, protective coatings, and other heavy civil capabilities. They handle structural concrete and walls, including sound walls. The company was founded in the 1930s.
Clark Foundation Company specializes in residential and commercial poured walls and flatwork, including a 10-year written warranty for basements and foundations in residential settings.
Construction Specialties Inc. (CSI) offers precast concrete beams and supports as one of its four specializations, all of which are focused on truss and beam systems in large scale building projects.
Consumers Concrete Corporation began as a sand and gravel operation in 1933 but sold its sand and gravel operation in 2016 to focus on ready-mix and manufactured concrete products. It supplies concrete for commercial, industrial, institutional, residential, and transportation projects.
Curbco provides a range of services for concrete flatwork, retaining walls, curbs, gutters, and approved sealers. They place extra emphasis on proper planning to minimize customer traffic during projects.
Davis Construction is a full-service building company located throughout Michigan, including concrete work as required for the project. In Michigan, they are approved to work for the cities of Lansing, Grand Rapids, Battle Creek and Jackson.
Fessler & Bowman, Inc. is a leading concrete and earthwork contractor that has grown from a residential flatwork and basement wall contractor to a top 100 Commercial Concrete Contractor recognized across the nation. They offer a broad range of construction projects including commercial facilities, warehouses, distribution centers, industrial facilities, and municipal work.
Central Concrete Products, a division of Fisher Companies, has plants in Mt. Pleasant and Alma, offering ready-mix concrete from its large fleet of front discharge mixers for large commercial projects and smaller residential sidewalks and driveways. The company also supplies a wide variety of construction aggregates.
The Florence Cement Company performs public and private road construction in Southeastern Michigan. Based in Shelby Township, the company has focused on constructing and reconditioning concrete and asphalt roads in newly developed subdivisions, metropolitan and rural arterial roads, and local street rehabilitation projects for the past 53 years.
Forta Corporation offers a broad array of products that reinforce concrete and control cracking and increase durability, along with sealants and coatings for vertical and horizontal surfaces. Since 1978, the company has researched, manufactured, and distributed fibers tailored to specific applications and the demands of an ever-expanding construction community.
Granger Construction provides a full-service construction program that provides services from conception to design to completion. Concrete work is a just one of many services offered to clients on major projects.
GM & Sons provides concrete construction work on commercial, municipal, state and federally-funded projects throughout Southeast Michigan.
Hanneman & Fineis Concrete Construction has built a reputation on professional, courteous service and good, old fashioned hard work. From residential driveways or stamped concrete patios to large commercial parking areas or stain concrete flooring, the train crew will offer cost-effective suggestions to get the most out of any project.
Since 1994, Hosford Brothers Concrete Co. has provided residential and commercial clients flatwork concrete, including decorative and stamped projects, and poured wall foundations.
Hunt Bros. Concrete Contractors has been family owned for more than 30 years and works throughout Michigan on flat work, parking lots, foundations, decorative concrete stamping, cast-in-place box culverts, and other specialty work. MDOT-certified, they work throughout the state on concrete roadway paving and patching.
Koala-T Construction was established in 1982 as a small local business and has since grown to serve all of Southeast Michigan. Fully bonded and insured, KCI offers a wide variety of construction services that specialize in concrete and asphalt paving for homes and businesses throughout the Metro Detroit area. The company excels in paving, repairing, and maintaining parking lots, driveways, sidewalks, patios, garage floors, and various other concrete components.
Kent Companies is a full service concrete company with expertise in commercial and industrial concrete construction, mixed-use construction, tilt-up concrete, cast-in-place structures and a wide variety of concrete polishing, staining, and epoxy coatings.
Kerkstra Precast was founded in 1962 by Larry Kerkstra when he began installing septic tanks for residential contractors. Since then, Kerkstra has evolved into manufacturing precast concrete buildings and infrastructure products for residential, commercial, and municipal uses.
LafargeHolcim operates four business segments in cement, aggregates, ready-mix concrete, and support products. The two companies – Lafarge and Holcim – merged in 2015 joining two international building powerhouse teams together for a global network committed to leading-edge technologies and innovative building materials.
Mack Industries has been making precast concrete products since 1932, including retention and sound walls, hollowcore planks, as well as burial vaults and cemetery crypts. The company offers infrastructure planning and consultations to help protect critical public resources.
MacKenzie Companies provides a vast array of highway, bridge, and site work, including post-tensioned concrete box beam structural concrete construction, sea walls, retention walls, concrete beam erection, and box culverts of all sizes.
Major Cement Company is a full-service infrastructure company specializing in concrete paving, sidewalks, curbs, driveways, water mains, sewers, and earthwork since its founding in 1978.
Merlo Construction has evolved from a small concrete outfit to concrete foundations, flatwork, site concrete, curb and gutter, and a vast scope of work that includes demolition, earthwork and more.
Metropolitan Concrete follows a strong family tradition of honest work ethics and integrity and has more than 55 years of experience in residential and commercial concrete. With a staff of ACI-certified stamped concrete finishers, the company specializes in steel reinforced, integral colored stamped concrete and tear-out projects.
The Moore Trosper Construction Company provides comprehensive construction services for a range of projects, including concrete services. Their concrete projects range from decorative finishes at the Western School District to buildings for the city of Grand Ledge.
Since 1958, Northern Concrete Pipe, Inc. has been a leader in the precast concrete industry. The production, engineering, sales, and distribution staff provides a wide range of precast pipe, catch basin, box culverts and much more.
Supplying the Romulus-area with building supplies since 1965, Osborne Concrete originally had just three trucks and a 3½-yard dry batch plant to the company's name. Today, it is thriving with 15 concrete mixer trucks and 20 gravel trains with their sister company John D. Osborne Trucking.
Paragon Companies service the Waterford Twp. Michigan area with concrete and cement needs. Paragon places a heavy focus on economic and environmentally sustainable products and understands the drive for environmental conservation. Paragon works with owners, developers, government agencies and others on many different types of projects, such as residential and commercial structures, streets, highways, and bridges.
Ron Miedema Concrete Contractor Inc. was founded by Ronald Miedema in 1962 and originally focused solely on foundation walls. Today, the company is known as Ron Miedema Concrete, and has over 55 years of experience pouring foundations for homes, condominiums, and commercial buildings. Twenty years ago, it expanded into flatwork and now provides basement floors, garage floors, driveways, and other exterior concrete.
National Block and Redi-Mix offers an array of concrete block products, and steps and colored concrete options for residential and commercial uses. Adding fibers to concrete flatwork will help control shrinkage and cracks.
St Marys Cement, a part of Votorantim Cimentos, is one of the largest cement producers in the world, producing 40.5 million metric tonnes a year. Products are rigorously tested to meet modern standards and they supply cement customers across the Great Lakes region.
Schepers Concrete Construction specializes in all types of concrete construction ranging from small residential jobs to large turnkey commercial projects. Employees are all ACI-certified concrete finishers working from offices in Grand Rapids and Cadillac to cover all of Michigan.
Stoneco has supplied crushed limestone, sand, and gravel throughout Michigan for more than 100 years. With multiple locations throughout Michigan, the company provides concrete products for everything from highways to parking lots to driveways.
Streeter Brothers had been performing a wide range of commercial and industrial concrete construction projects since 1978. The union tradesmen have the abilities needed to complete concrete foundations, flatwork and finishing, curb and gutter, saw cutting, excavating and concrete parking lots.
Superior Materials Holdings, LLC and Builder's Redi-Mix, both holdings of the Levy Group of Companies, have grown to 15 ready-mix plants throughout Southern Michigan to serve contractors and homeowners with an experienced team of ACI-certified professionals. The company's quality management system ensures materials and mixes meet every industry standard and are adapted to weather conditions and changing construction methods.
Team Elmer's, a family-owned company since 1956, offers concrete work as one of its four divisions. This Traverse City, Michigan-based company proudly employs more than 400 skilled professionals and operates out of 14 Michigan locations.