Okemos, Mich. – The Board of Directors of the Michigan Concrete Association (MCA) is pleased to announce an upcoming leadership change that will take effect at the beginning of 2024. The current Executive Director / CEO of the association, Dan DeGraaf, has stated his intention to retire from the post at the end of 2023, a position he has held since 2006 with the Michigan Concrete Paving Association (MCPA) and continued through the 2009 merger of MCPA with MCA. Dan has been in the construction industry for 50 years, serving the concrete association in Michigan for the last 23 years and has held many positions with concrete paving contractors throughout the U.S. in the 22 years prior to that. In retirement, Dan plans to spend more time with his wife, three children and their spouses, and four grandchildren and hopes to spend a little more time on the golf course.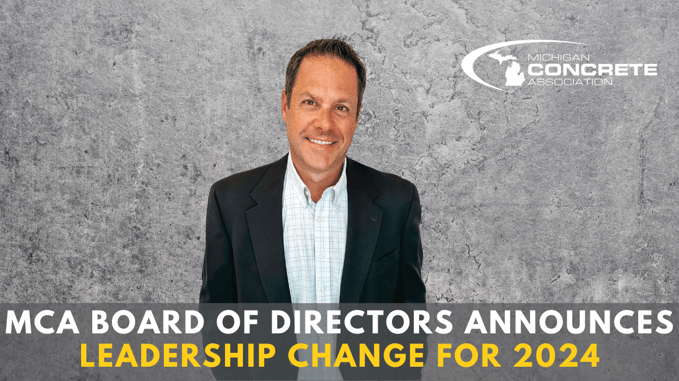 In January 2024, Steve Waalkes, the current MCA Director of Engineering – West Michigan will take over as Executive Director / CEO of the Michigan Concrete Association. The board has recognized his talents and willingness to take on future challenges. Steve has worked for the concrete industry in Michigan since 2006, starting with MCPA and continuing his role through the merger of MCPA and MCA in 2009. He is an expert in the design, specification, and construction of concrete pavements and other concrete-related products, and has assisted contractors, ready-mix suppliers, and other MCA members with troubleshooting and technical support regarding concrete issues. Steve has also given workshops and presentations around North America on concrete practices, technology, and research.
Steve has a Bachelor of Science degree in Engineering from Calvin University and a Master of Science degree in Civil Engineering from the University of Texas at Austin. He is a registered Professional Engineer in the State of Illinois, and a member of the American Concrete Institute (ACI), the American Society of Civil Engineers (ASCE), and the Michigan Society of Professional Engineers (MSPE) Western Branch. He is a Past President of the Michigan Section of ASCE and ASCE Western Michigan Branch, and a past board member of the ACI West Michigan Chapter. Steve enjoys working on his house, camping, watching hockey and lacrosse, and spending time with his wife and four boys.
Stay tuned! MCA is planning an event for early fall 2023 to celebrate Dan's career of service to the industry.
Send a note of thanks to Dan: ddegraaf@miconcrete.net
In his interview with the MCA Board of Directors, Steve Waalkes stated "I am excited about this opportunity to build on the legacy of concrete support and promotion that the members and staff of the association have worked tirelessly to create."
Send a note of congrats to Steve: swaalkes@miconcrete.net.